I could completed the Machine Learning course by Stanford University! Yay!
I started in April, and I could finish it at the end of June. So It took about 3 months.
(Please refer to the entry, which was written in the beginning => Started to study Coursera Machine Learning course by Stanford Univ. )
Cons
Unfamiliar programming language "Octave". But Octave is quite intuitive for calculation.
A bit hard to submit the programming assignment every week, but this became good training.
Takes time to get remember linear algebra, matrix, partial differentiation, etc…
I'm not familiar with mathematical terms in English. (I could study many new words)
Pros
I could study whole general machine learning algorithms.
By submitting the programming assignments, I could understand deeper.
I could keep my motivation very high to understand the class because I can't complete the assignments if I don't understand it.
The great explanation from the teacher Mr. Andrew Ng.
The logic is explained with mathematics, and it was great he explained very intuitive.
Coursera issues the course certificate (it's not free but only $89 and it worths)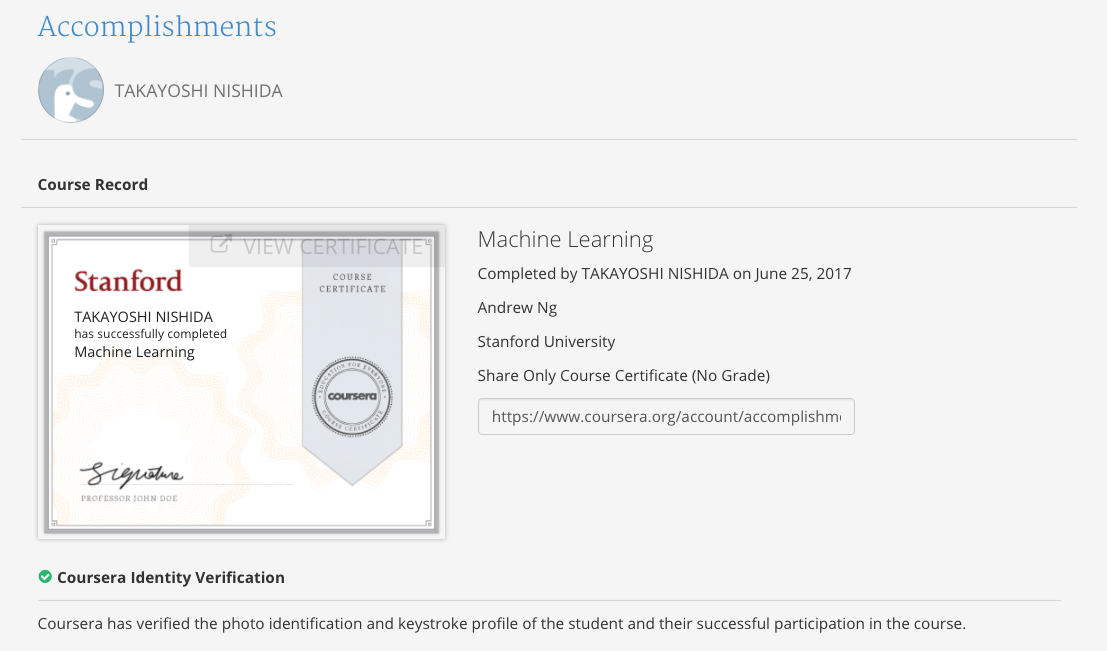 What I studied
Cost Function
Gradient Descent
Linear Regression
Logistic Regression
Neural Networks
Backpropagation
Evaluating a Learning Algorithm
SVM (Support Vector Machines)
Unsupervised Learning
Dimensionality Reduction
Anomaly Detection, Recommender Systems
Large Scale Machine Learning
Application Example: Photo OCR
Strongly recommended!
It was really great that Mr. Andrew Ng explains very intuitive. I could imagine how the equation works and what the logic is. This is very first time for me to study something online, I found it's very fun and I like it.
It was very good rhythm to study and submit the assignment on the weekend, I'm thinking to start new course.
Well if you want to study Machine Learning, I recommend this course definitely.